Jawbone Jambox
12/09/11 21:54 Filed in:
tech
The
Jambox
is a fairly new gadget from Bluetooth headset company
Jawbone
. I just got my hands on this one at the weekend in the Apple store in Belfast: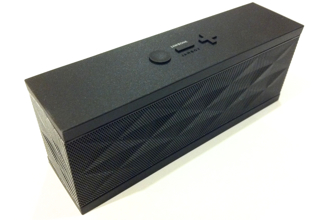 As you can see, it is a tidy piece of kit, about the size of a box of dominos or a big packet of butter, and in the black version there's a strong hint of the mysterious monolith in the classic movie 2001: A Space Odyssey. As such it's a perfect companion to the Apple iPhone. Even the packaging was stunning, with the Jambox itself magically suspended in a perspex box over a recyclable cardboard drawer in which a myriad of cables were lovingly slotted.

So what does this thing do, I hear you ask? It's a Bluetooth speaker, a way of getting deeper and stronger sound from your mobile devices, such as phones, iPads and laptops. Pairing is very easy, and in addition to playing audio from music and video, you can answer a phone call on it without touching your phone, conference-call style. For such a small and light device, the sound quality is impressive. The technical specifications quote 85dB at 0.5m - to most people that doesn't mean much; a layman might say it isn't quite as loud as an iMac or a TV set, but a decent bit louder than an iPhone or iPad. What you might expect from a good radio of that size. As well as dB strength, the bass sounds well and the depth is pretty solid, no tinniness here. You do need to point the Jambox the right way though, and there will definitely be occasions where background noise would require you to use a larger amp.

So on balance, the Jambox is a little expensive, but an extremely useful and very portable device with great design credentials. It fits in a jacket or trouser pocket, and with 10 hours+ of battery life you will never be stuck for good quality sound out and about.