Obviously a wedding quartet has four players, but what are the four instruments in a string quartet? Most people would know there are violins and cellos involved, but many especially in Ireland would not know about or realise the role of the viola in a quartet.
A string quartet almost always comprises two violins, a viola and a cello. Compared to the voices in a choir, the violins represent the Soprano and Alto voices, whilst the deeper-sounding viola provides the Tenor part and the cello covers the Bass. Indeed another name for the viola in the past was the Tenor Violin, and the strings of the viola match almost exactly the range of the standard Tenor voice.
You can see the four instruments of a quartet in this beautiful set made by the Bulgarian maker
Petko Stoinov
: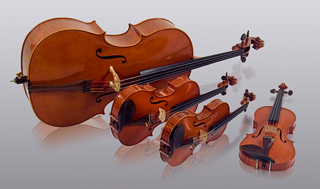 Although the Inishfree Quartet is very flexible in providing bespoke combinations of instruments for each occasion, we highly recommend the full quartet for the optimum results both in musical and presentational terms.