28/09/11 00:22
Tuesday saw the first official acknowledgement from Apple that the iPhone 5 is on the way. Although we've known for about 10 days that October 4, 2011 would be the day for Tim Cook to make his debut as the main announcer at an Apple event, as expected Apple didn't confirm this until a week in advance.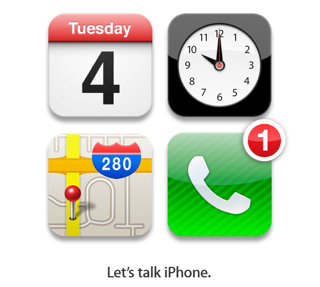 So what can we expect from the new device? Certainly the A5 SoC (system-on-a-chip) that features in the iPad 2, with its dual core processor, and likely 1GB of RAM (double the iPhone 4's memory), both of which will make the iPhone 5 an incredibly snappy device. An 8-megapixel camera is also expected with full 1080p video recording (iPhone 4 has a 5-megapixel sensor and is limited to 720p for video capture). It is also possible that NFC (Near-Field Communications) will appear in the iPhone 5, the technology that allows for contactless micro-payments (think of London"s Oyster Card for example), although this is less of a certainty especially given the slow take-up on NFC readers by retailers generally.

As ever with Apple iPhone updates, many of the new features will appear in the new software (iOS 5) and can be accessed by iPhone 4 users by hooking up to iTunes. Some will be limited to iPhone 5 due to hardware resources, such as the rumoured voice-control features, but even on iPhone 4 you will be able to use the new iCloud features, including wireless back-up and OTA (over-the-air) updates, the incredibly promising iMessage service which could reduce your texting bill to zero, and much more besides. I'm sure the iPhone 4 will remain an incredible device with iOS 5, and it's quite possible that iPhone 5 will have an extremely similar chassis and look.

Apple's Let's Talk iPhone event will take place at 10am PST (6pm Irish time) on Tuesday, October 4, 2011 on Apple's campus in Cupertino, California. Closer to the time I'll post links to several live blogs with commentary direct and live from the event.


[via Daring Fireball and The Loop]


12/09/11 21:54
The
Jambox
is a fairly new gadget from Bluetooth headset company
Jawbone
. I just got my hands on this one at the weekend in the Apple store in Belfast: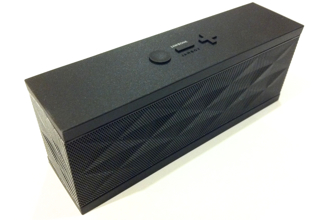 As you can see, it is a tidy piece of kit, about the size of a box of dominos or a big packet of butter, and in the black version there's a strong hint of the mysterious monolith in the classic movie 2001: A Space Odyssey. As such it's a perfect companion to the Apple iPhone. Even the packaging was stunning, with the Jambox itself magically suspended in a perspex box over a recyclable cardboard drawer in which a myriad of cables were lovingly slotted.

So what does this thing do, I hear you ask? It's a Bluetooth speaker, a way of getting deeper and stronger sound from your mobile devices, such as phones, iPads and laptops. Pairing is very easy, and in addition to playing audio from music and video, you can answer a phone call on it without touching your phone, conference-call style. For such a small and light device, the sound quality is impressive. The technical specifications quote 85dB at 0.5m - to most people that doesn't mean much; a layman might say it isn't quite as loud as an iMac or a TV set, but a decent bit louder than an iPhone or iPad. What you might expect from a good radio of that size. As well as dB strength, the bass sounds well and the depth is pretty solid, no tinniness here. You do need to point the Jambox the right way though, and there will definitely be occasions where background noise would require you to use a larger amp.

So on balance, the Jambox is a little expensive, but an extremely useful and very portable device with great design credentials. It fits in a jacket or trouser pocket, and with 10 hours+ of battery life you will never be stuck for good quality sound out and about.